Plastic conveyor rollers offer an economical way to handle light loads of materials while resisting corrosion and moisture. They're a better fit for some applications than stainless steel rollers. Explore some of the features, benefits and applications of these versatile conveyor rollers and place your order today.
Features and Benefits of Plastic Conveyor Rollers
Plastic PVC conveyor rollers offer several benefits, including: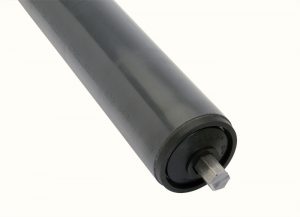 Ease of installation and use: These rollers
install onto conveyor systems easily and call for little maintenance once they're in place.
Less vibration: Plastic PVC rollers reduce overall vibration, resulting in higher efficiency. They also comply with noise level standards set by the Occupational Safety and Health Administration (OSHA).
Cost-effectiveness: Plastic conveyor rollers are an economical option compared to other materials. They will also extend the life of your conveyor system, saving you money over time.
Our plastic PVC conveyor rollers come with the following features:
S Schedule 40 and 80 PVC outer shell
ABEC 1 sealed precision roller bearing
Spring-loading at both ends
Standard diameter size options between 0.84 inches and 2.37 inches
Several bearing and bushing style options
Your choice of hex or round axles
We create these conveyor rollers per order rather than stocking them, which means we can customize your order to your needs. For example, we can add sealed bearings for additional protection if you need it.
Applications of Plastic Conveyor Rollers
Plastic PVC conveyor rollers are ideal for light loads and indoor and outdoor use, especially in wet conditions. They feature stainless steel axles and bearings that make them reliable for wet and wash-down applications. Their resistance to corrosion also makes them an excellent choice for applications involving caustic materials.
You can purchase plastic conveyor rollers with Delrin bearings to extend their application to extreme brine, steam cleaning and water conditions. These conveyor rollers can withstand numerous temperatures and humidity levels.
If you're unsure of the best type of roller for your application, our team can guide you through your options and customize a solution for your needs.
Industries That Use Plastic Conveyor Rollers
Plastic conveyor rollers are ideal for use in the food and beverage industry. They are also valuable for the agriculture industry, particularly in outdoor environments. For example, rollers are ideal for transporting food during field harvesting.
Plastic conveyor rollers also work well for manual assembly lines and warehouses that deal with lighter loads. Their resistance to corrosion makes them ideal for use in chemical and acidic applications across a range of industries.
Get in Touch About Plastic PVC Conveyor Rollers Today
If your conveyor needs to support light loads, caustic materials and wet conditions, plastic PVC rollers offer an ideal solution — and Rolcon is here to help.
We make our products in the USA and customize them with sprockets, shafts, components and materials to fit your application. Our team uses your measurements to engineer and manufacture custom plastic PVC rollers to meet your exact specifications.
If you have any questions or need more information, contact us online today to speak with a representative. We can also provide extensive product details and pricing by request.