Back to PVC Plastic Conveyor Rollers
Plastic Roller – 2.37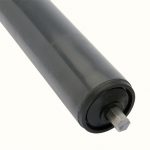 Plastic conveyor rollers are an economical way to provide resistance to corrosive environments and materials. At times, plastic rollers are superior to stainless steel rollers depending on the application. Plastic rollers are moisture resistant and used outdoors or indoors.
Plastic rollers are primarily used for lighter loads where the roller may see wet conditions or come in contact with caustic materials. Plastic conveyor rollers are often used in the food industry in an outdoor environment. Transporting food while harvesting in the field is a common application for plastic conveyor rollers.
When made with stainless steel axles and bearings, plastic conveyor rollers are a good solution for use in wet or wash down situations. Sealed bearings may be used for added protection. Additionally, Delrin bearings are an option. Delrin bearings are well suited for applications where brine conditions, steam cleaning, or where excessive water or liquids are present. They are also durable under a wide range of temperature and humidity conditions, as well as is corrosion resistant.
If you don't see the specification you want please contact us for a custom option or to discuss your application.
Slide table to the left to view.
| | |
| --- | --- |
| Axle: | 1/2 Round c.r.s., 7/16 hex c.r.s., Unknown |
Please select a different bearing measurement to view related product capacity charts.