Back to Conveyor Rollers
Tapered Replacement Conveyor Rollers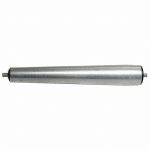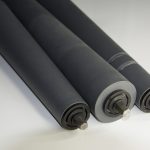 Rolcon manufactures tapered conveyor rollers to transport goods and materials around 45-, 90- and 180-degree turns without slowing your operations. These rollers are available in a range of standard and custom sizes to support material handling requirements in various industries.
About Tapered Rollers
Tapered rollers have an outer diameter that is larger than the innermost diameter of the metal tube. The most common size for a tapered conveyor roller is 2 1/2" diameter on the large end, which tapers down to a 1 5/8" diameter on the narrow end.  Many other diameters are available.
Tapered rollers are manufactured in standard turn and custom radius configurations to create a suitable taper. These rollers are used in a conveyor system's curved sections to maintain the transported material's position as its path turns. Installing true tapered conveyor rollers delivers directionally stable package handling without using sideboards.
Features
Every facility's conveyor system and material handling needs are different. Since the items you move and other factors affect which tapered conveyor rollers suit your requirements, Rolcon has the expertise and resources to make highly customizable rollers for your applications. Purchasing parts that meet your precise specifications can reduce overhead costs and extend your conveyor system's life.
What's more, you have several options that may provide additional benefits when ordering tapered replacement conveyor rollers from Rolcon:
Custom lengths and designs: Custom diameters and lengths are available. Contact our customer service department for more information.
Grooved and non-grooved options: We can add one or multiple grooves for motorized and line shaft conveyor systems.
ABEC precision bearings: ABEC precision bearings provide quiet, smooth operation and are suitable for high speeds.
Galvanized, stainless steel and coated tubing available: Standard steel tapered rollers are made with galvanized tubing.  Stainless steel and coated steel rollers are available for other applications. Contact customer service for more information.
Tubing available in standard and custom sizes: PVC tubing is available in outer diameter sizes from 1 3/8" to 2 1/2″. Steel tubing is available in outer diameter sizes from 2" to 5".
Contact Us Today About Rolcon Tapered Rollers
Choosing the right replacement conveyor rollers for your unique applications is essential. Rolcon manufactures custom, tapered rollers based on your length, diameter and material requirements. We also offer expedited shipping to ensure you receive your custom rollers as fast as possible.
If you're uncertain about what your conveyor system needs, call us. With over 30 years of problem-solving expertise, we are happy to help you make an informed decision. Contact us today!