Back to Stainless Steel Rollers
Stainless Roller – 1.9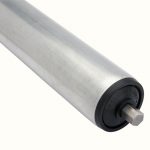 Stainless steel rollers are available for a wide array of applications that require corrosion resistance, wash down, and caustic environments.
The rollers may be all stainless or may be manufactured in options such as just the tube, the bearing, or the axle is stainless steel. Additionally, any combination depending on the severity of the application can be stainless steel.
304-grade stainless steel is the standard stainless material offered. Typically stainless steel rollers have stainless steel bearings that are sealed. Sealed bearings minimize the opportunity for moisture or caustic solution getting into the bearing – thus extending the life of the bearing and stainless steel conveyor roller.
These rollers are very configurable and can be customized to fit your needs. Many options are available upon request. Please contact us for more information.
If you don't see the specification you want please contact us for a custom option or to discuss your application.
Slide table to the left to view.
| | |
| --- | --- |
| Tube Material: | 12 Gauge s.s., 16 Gauge s.s., 9 Gauge s.s., Unknown |
| Axle: | 1/2 Round c.r.s., 1/4 Round c.r.s., 1/4 Round s.s., 5/16 Hex c.r.s., 5/16 Round c.r.s., 5/16 Round s.s., 7/16 hex c.r.s., 7/16 Hex s.s., Unknown |
| Bearing: | Polyhoused Precision ABEC, Polyhoused Precision ABEC s.s., Unground Non-Precision crimped, Unknown |
| Between Frame Measurement: | 6 through 80 |
Please select a different bearing measurement to view related product capacity charts.