Back to Framesaver
Framesaver Roller – 1.9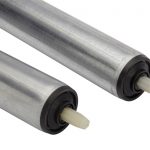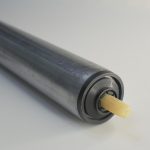 Framesaver rollers are designed to increase the life of a conveyor system. Designed with a poly axle and precision ABEC bearings the Framesaver roller will not wear out a conveyor frame and the precision bearing reduces vibration and noise. 1.9″ diameter tube 16 gauge galvanized steel, Precision ABEC bearing, and 7/16″ hex poly axle.
These rollers are very configurable and can be customized to fit your needs. Many options are available upon request. Please contact us for more information.
If you don't see the specification you want please contact us for a custom option or to discuss your application.
Slide table to the left to view.
| | |
| --- | --- |
| Axle: | 5/16 Hex Through Axle with 7/16 Hex Sleeve, 7/16 Hex Stub, Unknown |
| Between Frame Measurement: | 6 through 36 |
Please select a different bearing measurement to view related product capacity charts.